For the past 20 years, the Solar Electric Light Fund has worked to deliver solar power to rural villages in Africa, Asia, and Latin America by facilitating a new generation of "whole village" solar electrification projects. In many of the countries in which SELF works, there is no other organization undertaking a similar, independent role in providing power to villages without existing resources. Our belief is that energy is a human right, and that without energy, community development becomes virtually impossible. Working with government, industry and non-governmental organization partners, SELF has built a record of successful solar electricity projects in more than 20 countries, including Benin, Bhutan, Brazil, Burundi, China, India, Indonesia, Lesotho, Navajo Nation, Nepal, Nigeria, Sri Lanka, Rwanda, Solomon Islands, South Africa, Tanzania, Uganda and Vietnam. Specifically, we have conceived and implemented projects serving the most pressing needs of the communities we are working with. With the needs of the community in mind, we see an obvious pattern emerging across the different projects we have undertaken.
For now, let's call this SELF's Solar Integrated Development Maturity Model, our 5-level framework for understanding how energy poverty can be tackled at the local level, sustainably, one village at a time. The table below outlines our model: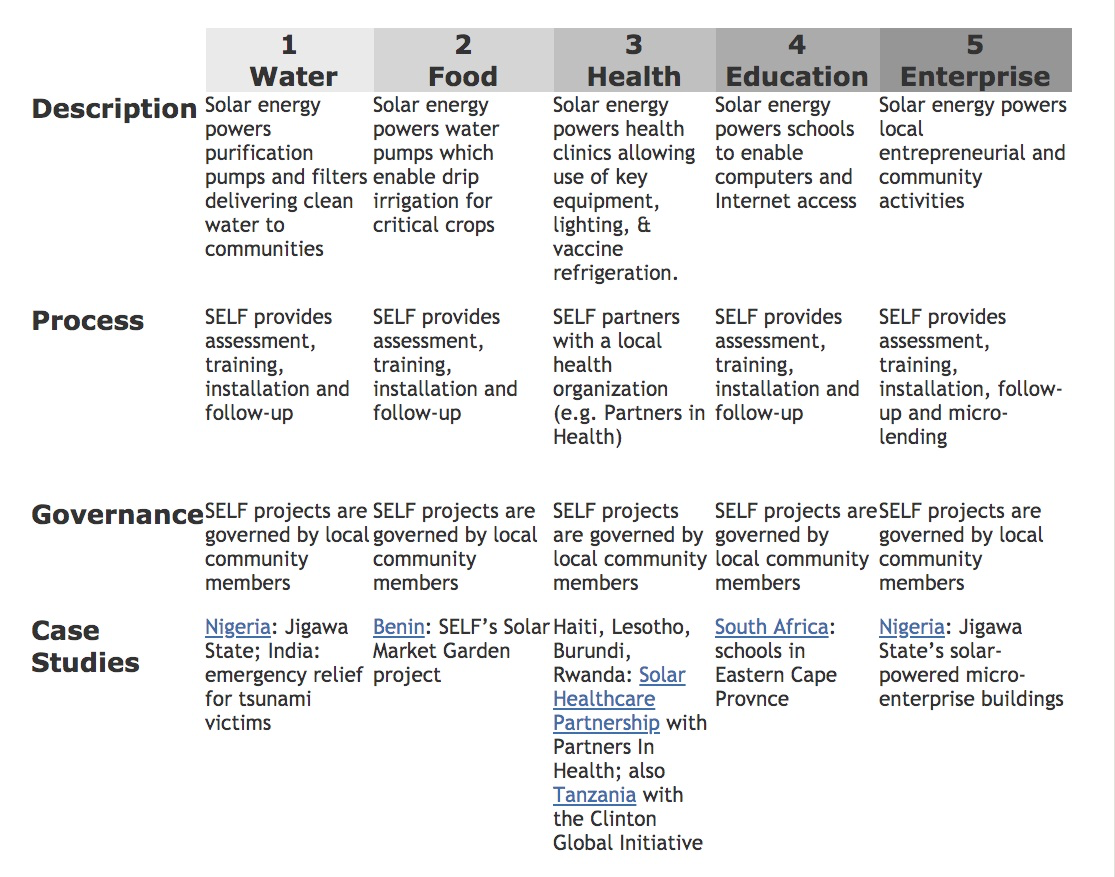 Level One: Water
Without access to clean drinking water, the standard of living in rural communities is always in "crisis" mode. Having a reliable water supply is the first priority of any village and this is especially true in the semi-desert of Nigeria's Jigawa State where there are few rivers or other sources of water on the surface of the land. Typical methods of getting water range from open wells with rope and bucket, to hand pumps, to government supplied diesel-powered pumps that work only until they break down or until villagers run out of money to buy the expensive diesel fuel.

The powerful solar-powered pumps supplied with this project are designed to run maintenance free for eight to ten years or more and are currently supplying the villages with clean, fresh water from deep wells. Because the wells are tied into a village distribution system with numerous taps, the time that families used to spend getting water has been reduced as well.

In India, SELF was involved in an emergency water purification project for Tsunami survivors. This solar-driven project also proves that at the most basic level, solar power can be harnessed to provide clean water for people without basic utilities.

Level Two: Food
Food security is a critical issue in terms of stability and socio-economic development across the developing world. In November 2007, SELF partnered with Association pour le Developpement Economique Social et Culturel de Kalalé (ADESCA) to launch a remarkable pilot project, installing an innovative solar-powered drip irrigation system to pump water for food crops. SELF engineers developed a 2.1kW solar electric power supply that provides 100% of the energy for the pumps. SELF secured seed funding for the project by emerging as a winner in the 2006 Global Development Marketplace competition, sponsored by the World Bank.
See: Stanford University assessment validates SELF's Solar Integrated Development Model
Level Three: Health
Since 2006, SELF has been working in concert with Partners In Health (PIH) to provide solar power to their hospitals in Rwanda, Lesotho, and most recently, in Haiti.
In response to the devastating earthquake that struck Port-au-Prince on January 12, 2010, SELF is accelerating its commitment to power health clinics in Haiti with PIH. We have already provided solar electricity to the clinic in Boucan Carré, Hinche, and Cerca La Source, and will now speed the process of solar electrifying all 10 PIH sites in Haiti.
More info: Rwanda, Lesotho, and Burundi, >>
Level Four: Education
In 2000, SELF began a project to bring solar electricity to Myeka High School, in the Valley of a Thousand Hills, a poor, rural region in KwaZulu, South Africa. Within the first year, the school was equipped with an overhead projector, two television sets, a VCR, a photocopier, a copy printer, and 20 computers marking the beginning of a new school experience for these youngsters. The enthusiasm in the school has been contagious throughout the teachers, students, and community. Teaching has become interactive using videos, TV programs, and overhead projectors to augment the learning experience. Students can now spend their time discussing topics and reading texts instead of hand-copying notes off the chalkboard. After receiving solar electricity at Myeka High School, not only did enrollment soar by 40%, but pass rates (the percentage of seniors who graduate with a diploma) jumped from 55% to 69%.
Then, in 2008 the Solar Electric Light Fund solar electrified three schools in the Eastern Cape Province, the birthplace of Nelson Mandela. Funded through the generosity of the Kellogg Foundation and the JP Morgan Chase Foundation, with laptops provided by Dell Computers, two thousand students and their families now have access to reliable lighting, new computer labs and wireless Internet.

More >>

Level Five: Enterprise
In Nigeria's Jigawa State, the power of economic transformation is captured in this footage from the CNN archives:
The solar-powered micro-enterprise buildings are the project centerpieces in each village. Each center provides electricity to six very small businesses that would otherwise not have access to electricity. The shared PV system, much less expensive than individual systems for each shop, allow tailors to move up from manual sewing machines to electric; barbers, from manual clippers to electric, and similar improvements in productivity for other types of businesses.
This project has introduced home lighting systems to each village. Compared to the kerosene lights that they replace, solar lighting offers a better light without the inherent fumes and fire danger of the old lamps. System users report that it is now easier for children to do their studies and home businesses are thriving under the better lighting conditions. And of course, families appreciate going about their normal activities with good lighting. With about 20 systems in each village, we have created demand and a great deal of interest in home systems. Our local partner will be able to continue electrifying houses using a micro-credit scheme where the payments for each system will be used to purchase additional systems for more homes.
One of the project villages, Wawan-Rafi, has a lake nearby that is used to irrigate cash crops during the rainy season. However, many of the poorest farmers are limited in their growing ability by only being able to water their fields using a hollowed-out gourd—a slow and labor-intensive process. For these farmers, we developed a cattle- or person-pulled cart with fold-out unbreakable solar modules powering an efficient pump that can be moved from field to field. More efficient irrigation will enable farmers to produce and sell more to provide greater income for their families.
The only source of income for most village women is the production and sale of peanut oil. Traditionally, small amounts of oil are made in a process taking great amounts of time and strenuous labor. In Wawan Rafi, we have incorporated a solar-powered oil expeller that will save time and labor while earning more income for women.
The way forward for SELF is based on this 5-level solar integrated development maturity model. We view total village development as a unified whole, combining the various needs—at every level—with our capability to deliver scalable, sustainable development projects to serve the entire community.