Solar-powered drip irrigation systems significantly enhance household incomes and nutritional intake of villagers in arid sub-Saharan Africa, according to a new Stanford University study published in the Proceedings of the National Academy of Sciences (PNAS). The study found that solar-powered pumps installed in remote villages in the West African nation of Benin provide a cost-effective way of delivering much-needed irrigation water, particularly during the long dry season.

We partnered with Stanford's Woods Institute for the Environment to evaluate the impact of our Solar Market Garden in Benin's Kalalé district. I blogged about the our involvement in Benin in an earlier post titled "Food Security: Using Solar Power to Transform Rural Agriculture in Benin's Kalalé District," noting how we were first contacted by Dr. Mamoudou Setamou, a native of Kalalé.  Our hopes for Benin were also documented by Yann Arthus-Bertrand in the The End of Oil, a recent episode of his Earth from Above series.
While the results of the project are very encouraging, I want to emphasize that they are just one part, an important one, of course, of SELF's Solar Integrated Development Model.
The Solar Integrated Development (SID) Model developed by SELF is based on three principles:
SELF Help

Solar electrification projects are chosen by the people in rural communities as full participants, acting on their own behalf. The villagers determine priorities as well as the project scope.

SELF Reliance

Solar systems are purchased by villagers through micro-credit financing. Each family pays for its own system and participates in the ownership of community systems, spreading development funds further to help more people.

SELF Determination

Villagers, both men and women, are trained to install, maintain and replicate their solar systems. In addition, a store of spare parts is provided as part of the initial project funding. Local partners are assisted in establishing a supply chain for continuing purchase of spare parts.
Each project flows from the needs and leadership of the community. The community is committed to and empowered by full participation in all project phases including design, implementation, monitoring and evaluation.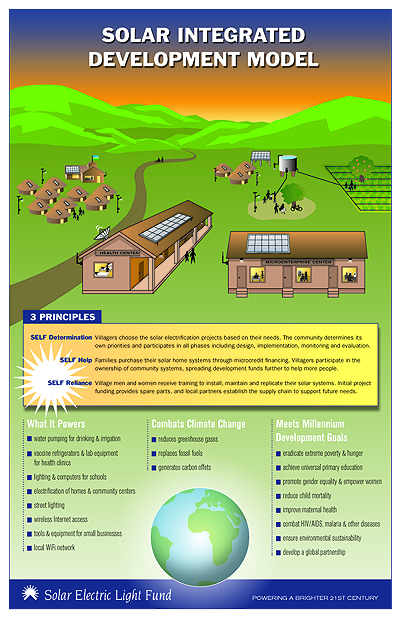 SELF partners with government, corporations and non-governmental organizations to develop and promote additional technologies and systems such as solar-powered micro-irrigation, crop-processing equipment, internet connectivity, telemedicine and commercial applications to help broaden the scope and impact of solar-generated electricity.
A solar electric system provides 20 years worth of energy at a fixed cost. Utilizing the latest technologies, projects are implemented with the most reliable and cost-effective equipment.
Beyond providing the electrical energy source, our Solar Integrated Development Model provides targeted applications, tools and hardware such as LED lights, sewing machine motors, oil expellers, vaccine refrigerators, water pumps, and computers, often through microfinance loans, so that community members have the tools to turn electrical energy into economic empowerment . The goal is not simply that people have electricity; it is that they immediately benefit from having electricity.
SELF's solar installation has made a dramatic impact on the health and quality of life for the people of Bessassi and Dunkassa in northern Benin. But there is much more work to be done. While the immediate next step is to drill wells in each of these two villages – ensuring access to clean, safe drinking water – there are 42 more villages anxiously waiting for solar-powered drip irrigation. SELF conducted site assessments in August 2009 and the wells were drilled in December 2009, with solar-powered pumps scheduled to be installed in March 2010. But we still need to raise money for drip irrigation systems for the additional villages.
Last, but certainly not least, SELF has promised to provide whole-village solar electric systems to each of the rural farming communities in Kalalé. With solar energy powering their schools, homes, clinics, streetlights and microenterprise centers, Beninese women and their families have new tools to lift themselves out of poverty, ensuring a brighter future for all.
Please help us continue building on this work, so that every woman and child has an equal opportunity to thrive.
SEE ALSO:
– Saving Sub-Sahara Africa a Drip at a Time Pacific Standard
– Solar-powered irrigation improves diet and income in rural sub-Sahara DNA