A lack of power was responsible for a lot of deaths in the first few days [after the earthquake]," writes Partners In Health (PIH) Executive Director Ophelia Dahl in a recent message.
She explains:
With electricity knocked out around Haiti, surgeons were forced to operate on patients using flashlights. Laboratory and diagnostic equipment were rendered useless. Electric water pumps were nonfunctional. Gas generators helped fill the gap. But finding fuel quickly became difficult, and gas that could be found carried price tags as high as $20 a gallon in the days following the earthquake. Many of our clinics powered by gas generators came uncomfortably close to running out of fuel.
As PIH begins to move from short-term relief efforts towards long-term recovery and rebuilding work, finding sustainable ways to power hospitals will become a priority.
Since 2006, Partners In Health has been working in partnership with the Solar Electric Light Fund (SELF) to provide solar power to hospitals in Rwanda, Lesotho, and most recently, in Haiti.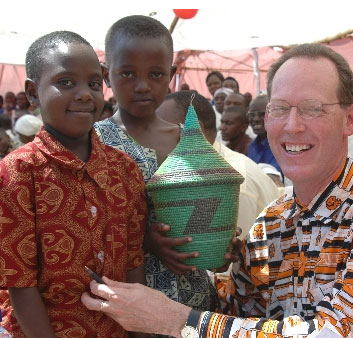 The first time I met Paul Farmer, he said something to the effect of…"Bob, I'm thrilled about bringing solar power to Rwanda, but what about Haiti? When are you guys going to help us in Haiti?"

I have the Clinton Foundation, especially Edwin Macharia, to thank for the introduction to Partners In Health. I met Edwin at the inaugural Clinton Global Initiative (CGI) in September 2005. Edwin, a brilliant and hard-working Kenyan who at the time worked for the Clinton Foundation, approached me at the conference and asked if SELF could help provide reliable power for a series of rural clinics in Tanzania. That conversation led to a collaboration between SELF and the Clinton Foundation to solar electrify 4 rural health clinics in the Masasi District of southern Tanzania under the auspices of the Clinton HIV/AIDS Initiative (CHAI).
Since the Clinton Foundation was also supporting the work of Partners In Health in Rwanda, a program which had just been launched in the spring of 2005, Macharia encouraged me to also talk with PIH about the possibility of using solar energy to power the five rural health centers in eastern Rwanda that were being operated by Partners In Health.
Several months later I traveled to PIH's headquarters in Boston to meet with PIH Executive Director Ophelia Dahl and several of her colleagues. I was accompanied by Jeff Lahl, SELF's Project Director. Jeff and I went over the pros and cons of solar vs. diesel for powering rural health centers, and explained that while a photovoltaic solution would be more expensive upfront, it would save considerable money over time. Furthermore, we argued, solar would be more sustainable and reliable than diesel. Shortly thereafter, PIH committed to working with SELF to solar electrify their five rural health centers in Rwanda.
In July 2006, I visited Rwanda for the first time, just as the first of our solar installations for PIH was getting underway. My trip coincided with President Clinton's visit to Rwanda. While he was visiting PIH's hospital in Rwinkwavu, Jeff Lahl and I had an opportunity to brief President Clinton on SELF's solar solution for Partners In Health.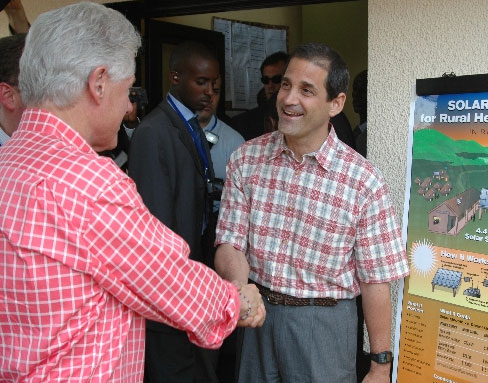 After the success of Rwanda, PIH decided to "go solar" across the board—at each and every one of their 40+ health centers in Rwanda, Malawi, Lesotho, and Haiti. 
In the wake of the devastating earthquake in Haiti, we have been requested by PIH to accelerate our timeline for bringing solar power to all of their sites in Haiti. Diesel fuel is already in short supply and will likely become even more difficult to obtain as time goes by. Solar can serve as a foundation for a robust and sustainable healthcare infrastructure in Haiti.