Walt Ratterman—one of the most dedicated and intrepid solar pioneers that I have ever had the honor of knowing—was tragically killed last month when the earthquake that struck Haiti on January 12th leveled the Hotel Montana in which he was staying. The world has lost a truly great man, solar professional, and global humanitarian.
I had heard about Walt for years, but didn't get to meet him in person until the summer of 2006 when I traveled to Rwanda to check out the first of five solar electric systems that SELF was in the process of installing at rural clinics run by Partners In Health (PIH). Aside from Walt's deep technical knowledge and experience installing photovoltaic (PV) systems around the world, one of the things that struck me most about Walt was his tireless work ethic. He never seemed to take a rest. Typically up by 4:00am, Walt would spring into action with a series of calisthenics, followed by a checklist review of everything he aimed to accomplish over the next 24 hours. And after a long, grueling day in the field followed by a quick supper, instead of relaxing over a beer or two, Walt would inevitably fire up his laptop and respond to a string of emails and/or do some additional planning for his next project.
A couple of other attributes come to mind when I think about Walt. First, he loved to teach and always took special pleasure in training local technicians and villagers in the basics of PV installation and maintenance. One of my favorite photos of Walt is the one below, which features him and a couple of Rwandans wiring the back of a solar panel.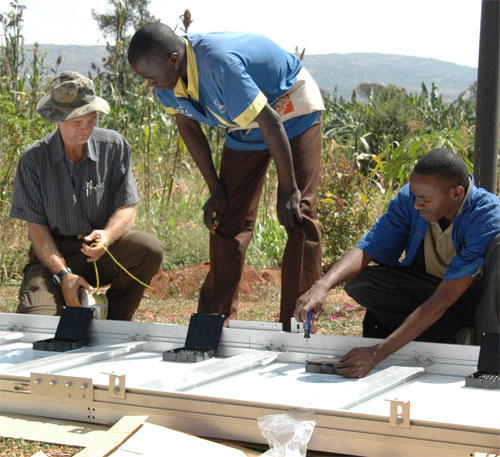 Second, Walt had a profound sense of kindness and compassion towards those less fortunate and treated everyone with the utmost respect and dignity. He also possessed a fierce sense of social justice, which no doubt helped to fuel his passion to make solar electricity accessible to all people, regardless of location or resources.

Third, Walt was an avid reader and student of history and world religions. One conversation that I remember fondly was about our common experiences with Tzu Chi, a Buddhist relief organization founded by Master Zheng Yan in Taiwan. Having lived in Taiwan for six years, I had met Master Zheng Yan on several occasions and was familiar with Tzu Chi's humanitarian outreach in Taiwan and overseas. You can imagine my surprise and delight when Walt informed me that not only had he met Master Zheng Yan but that he had been appointed by her as a commissioner of Tzu Chi in connection with humanitarian work he had carried out in Afghanistan!

Which brings me to Knightsbridge International (KBI), the organization under whose auspices Walt traveled to Afghanistan shortly after 9/11 to provide aid to people who were fleeing from the Taliban. As a member of Knightsbridge, a humanitarian and medical aid organization founded in 1995, Walt had journeyed to and provided relief in far-flung places such as Burma, Cambodia, Nicaragua, Sudan, and the Philippines. Some of Walt's humanitarian feats in the first few years of the new millennium were beautifully captured in Adrian Belic's 2006 award-winning documentary Beyond the Call about Knightsbridge International.
After completing the electrification of PIH's health centers in Rwanda, SELF asked Walt to assist with additional projects in Rwanda, as well as to continue working with SELF on the solar electrification of PIH clinics in Lesotho and Haiti. Walt also helped us solar electrify a new hospital in Burundi that had been built by PIH's sister organization, Village Health Works.
Walt was, without doubt, the most dedicated and hardest-working project manager Jeff Lahl and I have ever worked with.  We would have gladly brought him on full time, but Walt preferred to work independently, to many organizations' benefit.

He established SunEnergy Power International (SunEPI) to serve as a vehicle for all the humanitarian renewable energy projects that he undertook in remote, rural parts of the world. Since 2007, Walt and SunEPI had been working with USAID to assess healthcare energy systems in Haiti, an initiative which dovetailed nicely with our plans to assist PIH in Haiti. He oversaw our 10-kilowatt installation at the PIH-run clinic in Boucan Carre, helped secure a donation of PV equipment, and involved USAID in the project

For a long time after the January 12th earthquake in Haiti, Walt's family—along with many of his friends and colleagues, myself included—continued to believe that he had survived the collapse of the Hotel Montana and was patiently waiting for the rubble to be cleared away so that he could refill his water bottle and get back to work. Within days of the disaster, a special Facebook page had been set up by Walt's family to serve as a conduit for information about search and rescue operations at the Montana, as well as to provide a communications platform for anyone who knew or knew about Walt and wished to contribute personal thoughts and reflections about him or others who were also missing.

Even before the tragedy in Haiti, Walt was a hero to many people around the world, a fact that is clearly evident from reading the hundreds of impassioned prayers and well wishes posted on his Facebook page by people in faraway places whose lives were blessed in one way or another by Walt's grace, compassion, and goodwill.

It wasn't until a few days ago that we finally learned Walt's remains had been found in the rubble of the Hotel Montana. While saddened beyond words by the finality of this news, I am comforted knowing that Walt's spirit of adventure and dedication to making this world a better place will live on in the thousands of people that he has inspired, and in the dozens of organizations that he has worked with and supported.

One such organization is Solar Energy International (SEI), a nonprofit group based in Carbondale, Colorado that has trained more people in photovoltaic design and installation than any other group that I know of.   To honor Walt, SEI has just established the Walt Ratterman Scholarship Fund to support people from developing countries to attend SEI workshops. What a wonderful way to pay tribute to Walt and his lifelong commitment to social justice and the provision of sustainable energy access across the globe.